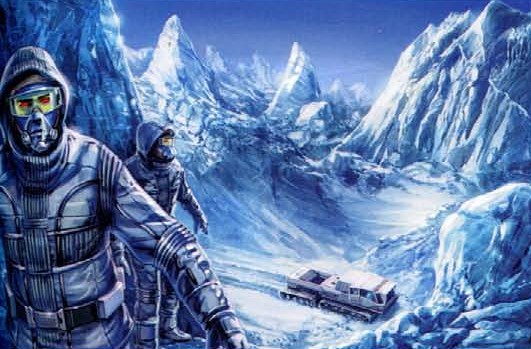 Sit back and relax as we take you on a final trip around the galaxy. From the Core Worlds, right to the far reaches of the Outer Rim! This is your
Guide to the Stars
! With our final entry, we're visiting the frozen homeworld of the Chiss; the planet Csilla from the Unknown Regions.
Csilla, the homeworld of the Chiss, is a cold world of glaciers and snowy wastes located deep within Chiss Space and serves as the capital of the Chiss Ascendancy. Over twenty thousand years ago, humans arrived on Csilla in a sleeper ship and colonized the planet. It was only within the last few thousand years that the planet entered an ice age and glaciers covered the normally-warm equatorial regions of the planet; solid ice locked the poles into a perpetual winter. In order to survive, the Chiss built energy-efficient warrens beneath the ice, as close to the warmth of the inner planet as possible, with underground carriage travel routes to connect various underground sections of Csilla.
As for the Chiss themselves, they remain an enigma to the rest of the galaxy due to the remote position of their home territory. They are a near-human species which are distinguished by their blue skin and glowing red eyes which grow darker depending on the oxygen content of their surroundings. The more oxygen present, the more intense the color of their eyes and skin tone. Their physical forms have led to some speculation on whether they were an offshoot of the humans who colonized Csilla thousands of years ago or if it was just coincidence. Genetic analysis has indicated that they are in fact an offshoot of humanity and it is believed that moving underground led to a divergence between them and baseline humans.