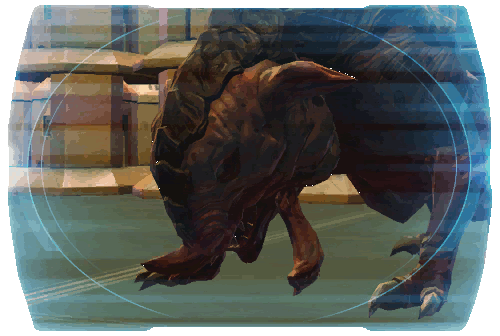 Is it possible to make the perfect warrior?
This is the question that has been asked many times since the origin of life, and for a team of intrepid biological engineers brought together by the
Galactic Republic
, it was the question they had hoped to answer after several millenia and debate. The Salky Hound is certainly not the first of engineered beings to come to popularity, but it is both the most used and the most widespread amongst the galaxy's stars.
Designed by "some of the brightest minds" the universe had to offer, the Salky Hound is a miracle melding of modern minds and technology. One of the scientists from the team,
Doctor Suruni Colum
, offered his words in an interview with the
RHN Biolife
Report team.
"
The Salky Hound is the pride and joy of the people who created it. When the Republic recalled the Salky we refused to accept our precious creation to be destroyed.
"
Recently declassified files from the Republic military's research and development team have exposed that the Salky hound was originally an experiment deemed too high risk and cost to continue. The plan from the scientist's superiors was to destroy every specimen and start from scratch.
Several hundred incidents show, through archived footage, why the Salky Hound was deemed a failure by the military eggheads on Coruscant. With their sharp claws, keen senses, and powerful jaw strength, they seemed destined to replace the ever popular Kath hound. Their aggressive nature is what got the best of them, the trait proving to be too stubborn to fix through biological engineering or conditioning by a trainer.
The more aggressive they became the more effective they were in guarding set territories or in combat, but their brutal attitude towards anything non-Salky made them almost impossible to control due to their lethality. Finally, after several dozen deaths of both scientist and handlers, the Galactic Republic ended the project and called for the extinction of the genetically manufactured mistake—two separate laws passing which made them illegal to be owned in the Core Worlds.
For the majority of the team it was an unacceptable fate; several key members of the original team, as well as upstart assistants, stole baby Salky hounds and sold them on the black market, a good portion of them ending up as both wild animals after mauling their new owners or learning to act and evolve freely in a new, wild habitat.
Norredi Anlon Dekk
RHN Columnist
Republic HoloNet News Biolife Report
[Salky Hound]